Welcome to the C -n- C blog
   In this busy paced world with all our high-tech communication devices, with our ability to talk to almost anyone anywhere in the world we often times misunderstand each other simply because we confuse each other. We think we are being clear and we think we understand what the other person is saying, when in reality our words have only brought confusion. The purpose of this blog is to try to bring some clarity to this confused world. We hope that each individual will find some light and understanding through the articles and posts that you will find here. The truth is that the best way to bring understanding is through an open dialogue, which is why each article allows you to question and discuss and ask any question you desire.     See our Mission Statement. If you wish to summit a article of your own, please send it to christianity_confusion@aol.com
Christians Deliver Petition to Repeal Arizona Gov. Jan Brewer's Executive Order
Today, two Christian leaders in Arizona delivered a petition signed by thousands of Christians to Gov. Jan Brewer calling on her to retract her controversial executive order denying driver's licenses and other benefits to undocumented young people who qualify for deferred action.
The Love of Money
When greed and selfishness becomes the norm we must stop and reevaluate the reasons why. We do not have to look far to find our answer, the airways are filled with get rich quick schemes, the media is full of messages tell about taking care of number one and we hear politicians playing on peoples fears and greed telling them," it's your money!" Then somebody asked,"Why has America seen such a moral decay?" This simple, it's because of the love of money.
The Rich Really Are Different
The rich, those born sucking silver spoons like Mitt Romney and Paul Ryan, really are different from the middle class. The wealthy grow up and live their lives wrapped in security. That's what gives them the arrogance to organize a posse to hold down a fellow prep school student and chop off his hair, mock NASCAR fans' clothes and ridicule cookies offered by supporters. No matter what, Romney and Ryan will remain rich and secure.
This year, citizens of the United States of America will exercise one of the most fundamental rights of our democracy—choosing through free and fair elections those who will govern us at local, state and national levels. The right to choose our leaders is a precious one. In the course of our nation's history, thousands of brave men and women have shed their blood and laid down their lives to provide and protect this freedom. Oppressed people in many nations across the globe can only dream of enjoying such a privilege. We must never take it for granted. Liberty, though purchased by sacrifice, is forfeited by complacency.
As much as we cherish our democracy, however, the most important choice every person must make in life is not a political one, but a spiritual one. (We are discussing this on two threads, please join us by clicking here.
This article is titled, "What is an Evangelical? An Overview" Most people know evangelicalism only through the big, bellicose voices of TV preachers and religio-political activists such as Pat Robertson, the late Jerry Falwell and James Dobson. Not surprisingly, my friends hadn't experienced an evangelicalism that sounded particularly loving, accepting or open-minded.
After eschewing the descriptor because I hadn't wanted to be associated with a faith tradition known more for harsh judgmentalism and fearmongering than the revolutionary love and freedom that Jesus taught, I began publicly referring to myself again as an evangelical. By speaking up, I hoped I might help reclaim "evangelical" for what it is supposed to mean.
Join our discussion of this article at free-fire-zone.com/post/What-is-an-Evangelical…
In these trying times when life can seem so heavy, when joy seems as a forgot time memory, when life is little more than a burden there is hope. This world can wear you out, money can seems so little, the demands for your time so great that it begins to seem maddening and we wonder what is the use of it all? This Faith video "Take My yoke" is based on what Jesus said, "Take My yoke upon you and learn from Me, for I am gentle and humble in heart, and you will find rest for your souls."
This article "Hate Kills" In a cartoon drawing Sean Delonas made his hate message of assassination clear. What should be alarming to everyone is the thought of assassination, which is the real implication of the cartoon. The projecting of this type of hatred violates everything that this Nation was founded on. It is such hateful propaganda which has lead to the shooting at Churches and of elected officials. What we must remember is that regardless of political bias, hate begets hate, we are a better nation than this.
This Video article "Fears and Victory" Since the fall of man evil, selfish men have brought misery upon the world. Though the ages they have enslaved many by force or fear. Through fear they can control people and enslave them. Today the story is the same and we often feel hopeless. We pray for, work for and fight for change, only to be faced with more of the same. Maybe things really are changing for the better and we do not see it because of evil men shirring up fear. It really does not matter if these fears are real or imaginary, the affect is the same. I do not wish to address any particular issue which might provoke such fears; instead I want to focus on how we handle these fears. I have put together this video of Psalms 37 which I have found to be a real help. If I were to pick out one passage it would be this, for it speaks of how God always takes care of those who put their full trust in Him.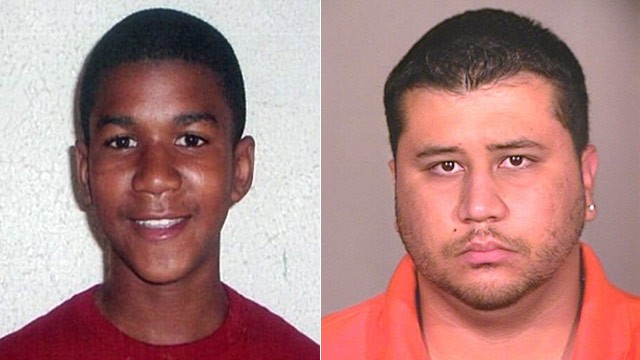 Another Racial Hate Crime that cost the Teenager, Trayvon Martin his Life.
The radicalism has lead to this type of hate crimes. Here you have an innocent teen walking through a neighborhood shot down. I know that the reactionary people will claim that I'm using the race card, but they say that just to cover the very racism that I'm talking about. Maybe this is just my opinion, I feel that many of these people who hate President Obama so much would secretly or not so secretly wish this was a White Only Nation. How can anyone justify the murdering of a teenager whose only crime was being Black?
Article "Conservatives Confused as State Minimum Wage Attacks Fail"
Legislators in Arizona conceded defeat this week in an attempt to gut the state's minimum wage law. House Majority Leader Steve Court admitted that the law, enacted in a landslide 2006 ballot initiative with 65% of the vote, is still unassailable. Court's decision wraps up a rough couple of months for legislators and lobbyists intent on rolling back minimum wage laws.
First, presidential candidate Willard Mitt Romney went off-script for over a month strongly supporting annual increases in the minimum wage, and inadvertently lending support to measures to raise the minimum wage in at least fifteen states. After conservative leaders succeeded in pressuring Romney to retract his position, the candidate's statements have lacked conviction and consistency.  Post your comments at http://www.free-fire-zone.com…
Watch the State of the Union and post your comments at http://www.free-fire-zone.com/post/State-of-the-Union-2012-5677962?pid=1271937866#post1271937866
In the next few weeks, among the most talked-about legislation will be the Stop Online Piracy Act — commonly referred to as SOPA — which, if passed, would give the Justice Department the authority to block access to foreign websites deemed to be dedicated to copyright infringement.
Both SOPA and its Senate version, PIPA (officially known as the PROTECT-IP Act), have widespread bipartisan support among lawmakers. But the proposed law has become a pitched battle between entertainment companies — who believe SOPA will curb the illegal distribution of movies and music — and online media companies like Google and Facebook, who fear that the bills will be burdensome to implement and are tantamount to censorship.  Post your comments on this thread
This article "Republicans and Corporate Democrats, You Will Lose!" This is the beginning of a revolution the beginning of
a change in our society, this is a rebirth of the progressive movement
which will change our society in ways you cannot imagine. As
you will see in this video, Wall Street's guard dogs attack innocent
protesters, but it is the police who were forced to turn tail and
run. This is the future for all who oppose the what
the 99% of Americans need.
This is the "White House Press Briefing" conducted most weekdays from the James S. Brady Press Briefing Room in the West Wing. January 18, 2012. The President's rejection of the dangerous Keystone sands pipeline is what the reporters are most interested in. This is impressive considering the treats from big oil. The interesting thing is that this pipeline will not add to our oil supply. It's only purpose is to process gasoline to be exported. Why when gas prices are still so high would we export any gasoline?
There is no excuse for the pepper spraying of an
84 year old woman, whose only mistake was being in the wrong place at the wrong
time. The problem goes back some 15 years, when there was a move to militarize
the police forces. Our police departments are not occupying armies, but rather
fellow citizens who have taken oaths to serve and protect their fellow citizens.
The occupying movement has shown one thing very clearly, those controlling our
government are not interested in the will of the people but rather in what that
richest 1% wants. It is about time we put America back in the hands of all
Americans.
————————————————————-
The Free Fire Zone is our main message board with a whole host of topics and forums. Our general message board which is an open topic forum is titled Politics/News. This is followed by "What a Day!" Which is for the sharing of those unusual days, whether good or bad or funny. "Faith and Beliefs" is not necessarily religious beliefs, it can be that which you hold dear to your heart. "Creation vs. Evolution/ Faith vs Science" The name pretty much says it all. "Taxes and Responsibilities " This not an advice forum for your taxes, rather it is a forum about taxes and responsibilities. One of the more touchy forums is "Issues about Homosexuality" What do you think about many of the issues which Gays bring to America and the Church? Another hot social topic is that of "Abortion" which the next forum. "Immigration" deals with the new face of America. The "Labor Report" deals with those issues of working America. "Crime and Justice" is where we discuss the laws of the land and whether Justice really holds up to it's name. Then we move to a lighter forum "Poetry" where we share poems which we like or have written. There is even a forum for free advertising called "Sale U goods."
Zoie's Corner is an unique Board with only one forum for telling your stories of how God has provided for your needs. There is so much sorrow in the world that some times we forget the good. On this board we invited you all to share the joy in your lives, tell us of that which gives you happiness. To quote the Bible:
Philippians 4:8
Finally, brethren, whatsoever things are true, whatsoever things are honorable, whatsoever things are just, whatsoever things are pure, whatsoever things are lovely, whatsoever things are of good report; if there be any virtue, and if there be any praise, think on these things.
We are pleased to introduce our newest message board called Scripture Exploration. It's purpose will be the sharing of opinions and research of individuals. It will not be an attempt to indoctrinate anyone. As always our goal is to make people think. This is a place for the study of the Bible and of matters faith in depth.
______________________________________________________________________